So what does that mean? Well, that means that we have a lot to talk about today.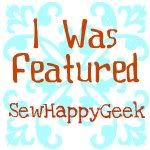 First up, I am very excited to say that I am being featured (well, I will be on Friday...I'm posting a bit early. LOL) on
Sew Happy Geek
! Make sure to check out her site, because she is participating in
Sew Mama Sew's May Giveaway Day
, too!
What is the May Giveaway Day you ask? Here it is from Sew Mama Sew herself:
We coordinate one day when everyone with a shop or blog can give something away. We create a master list, and we leave the lists up for several days so readers can take their time visiting the hundreds of participating blogs and shops. We also provide some structure with categories and international shipping info. Giveaway Days have been a lot of fun for everyone involved!
And of course, I decided to participate! YAY for me and YAY for you too! Giveaway details are at the end of this post...you know, so that you don't do that first and completely miss the awesome stuff I have to show you. LOL
First off, I want to share with you the quilt that I made for my mom for Christmas. It was my first attempt at a bargello quilt and I like the way it turned out.
My pictures aren't great, but I intend to learn how to take good ones. Until that happens, bear with me. :)
On the left, you can see how I quilted it. I machine quilted it on my Pfaff. I just echo quilted the design that I perceived. On the right, is my "signature". I like to hand stitch that into the back of all of my quilts. :) There are a couple I missed, but they reside at my mom's house, too, so I will get them eventually.
Okay, okay. Onto the giveaway.
Prize #1 - a charm pack of Moda Freebird
Prize #2 - a jelly roll of Moda Marbles
Prize #3 - a roll of Stripz
Prize #4 -fat quarter pack (4 fat quarters)
Prize #5 - Fat quarter pack (5 fat quarters)
Here are the details for the giveaway:
Leave one comment per entry, making sure there's a way for me to get a hold of you. Tell me which prize is your favorite. If I can't get a hold of you, I will draw a new winner.
If you are a follower, leave an extra comment telling me so! (This is all about the followers, after all!)
Drawing will be held on 25 May, and winner will be chosen by random (I will attempt to use the random number generator thingie for the first time!)
I'll ship them out on 30 May as long as the winner has responded with her address.
I will ship internationally.